What Makes Up A Rustic Kitchen Design?
A rustic kitchen design style has a number of interpretations including farmhouse, log cabin, Tuscan, or even coastal; thus making it a bit harder to define. Regardless of the influence, it boils down to the simplicity of incorporating natural materials which make this design style cozy, practical and even beautiful. Unlike modern design, rustic design often puts the material itself at the forefront of the design. Rustic design has a relatable realness and thrives on imperfection and raw grittiness. It is heavy. There is nothing delicate, ornate or eccentric about it.
Check out our other styles: Contemporary | Transitional | Modern | Traditional
Decorative Elements
All materials should be used in or reflected as being in its most natural form. For your cabinet doors, choose a wood with a prominent grain pattern like Oak or Hickory, or woods with open knots or contrasting mineral streaks which can be found in a rustic Alder, Hickory or Maple. Elevate your cabinets by giving them a reclaimed wood look by selecting from one of the many techniques offered by cabinet companies such as burnishing, random distressing, wormholes, and aged or weathered applications. You can check out our exclusive cabinetry at Custom Wood Products.
Cabinet door styles can be either a raised or recessed panel as long as they remain modest. Of course the universal Shaker door works as well, and so does a grooved center panel door. Texture is integral to this design style so avoid high gloss or highly polished finishes. Consider blackened pewter cabinet hardware, oil-rubbed bronze faucet, or hammered copper farmhouse sink to add character. Additionally, incorporating a natural stone on a feature wall or fireplace can expand the kitchen design style to the living space. Live edge floating shelves, ceiling beams, reclaimed wood and random width wide plank wood floors are common elements in rustic design.
Countertops
The rustic kitchen design style is supposed to create an intimate atmosphere with personal charm. To achieve a personalized, charming feel to your kitchen try a butcher block or live-edge wood countertop. What is unique about adding in wood countertops is just that, it's uniqueness. Wood has many different species and is a natural material with plenty of different types in color, pattern, and tone. Your counter top will never be the same as anyone else's! However, you may want a more sleek, modern rustic kitchen design. If so, we suggest using a clean and simple quartz with light veining throughout. If the countertops, cabinets, and backsplash are wood and are extremely rustic in design, it may be too much for your taste while also clashing against each other. This is when we suggest doing a neutral quartz countertop.
Backsplashes
Rustic kitchen backsplashes can be a lot of things. Ultimately we suggest picking a texture that will compliment the countertops and the vibe you are going for. This design style can have all types of looks, so if you choose a weathered wood or a galvanized metal the outcome will be drastically different. Add texture by using a backsplash tile that has a crackled or worn edge look.
Colors
The rustic design style focuses on bringing the natural outside elements indoors. Incorporate colors that are softer, muted Earth tones like browns, dusty gray-greens or creamy whites to achieve that rustic look. Avoid bright or bold colors. There are many variations of color palettes you can choose from as long as you have a lighter neutral color (tan, beige, cream) and a darker, muted color of your choice. For example, if you want red to be your color of choice, consider maroons. If you want green incorporated, consider an olive green.
Classification
Hospitable, Organic, Unpretentious, Approachable, Welcoming, Genuine
Is rustic the design style for your next kitchen remodel? Check out an example of a recently completed, Clinton Wisconsin kitchen remodel. This modern rustic design is absolutely stunning. We love the different color choice for the cabinets, as well as the exposed brick backsplash going up to the ceiling.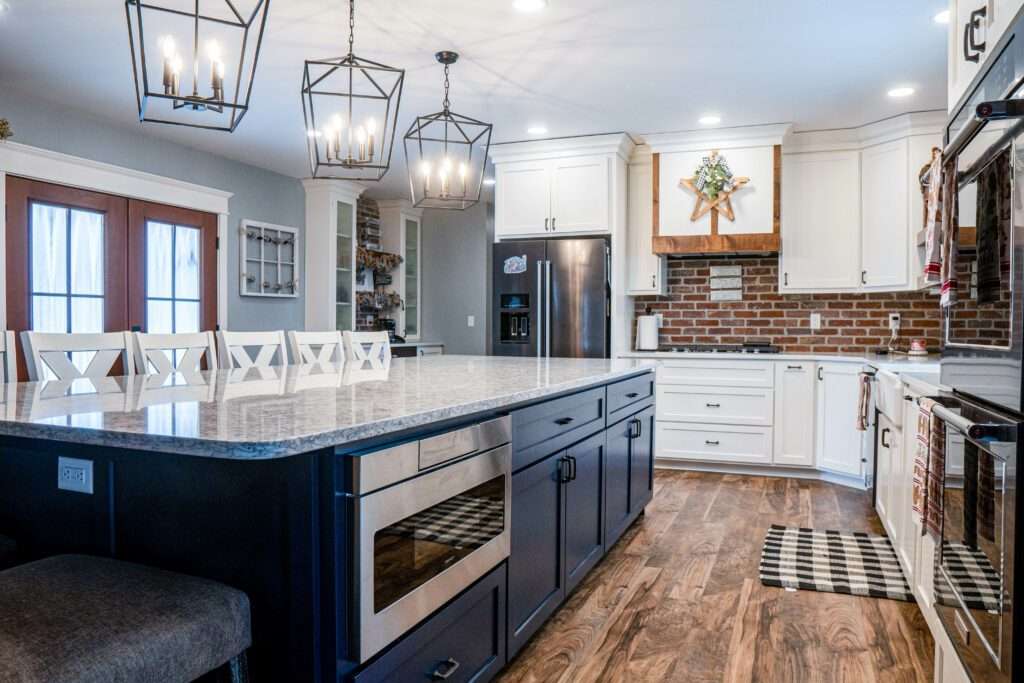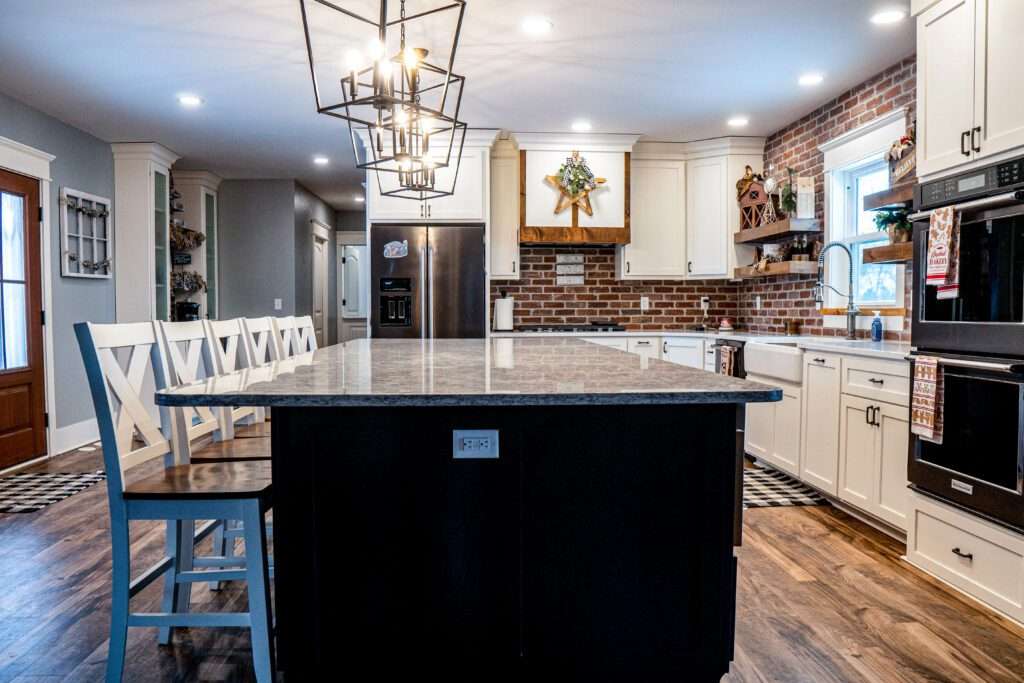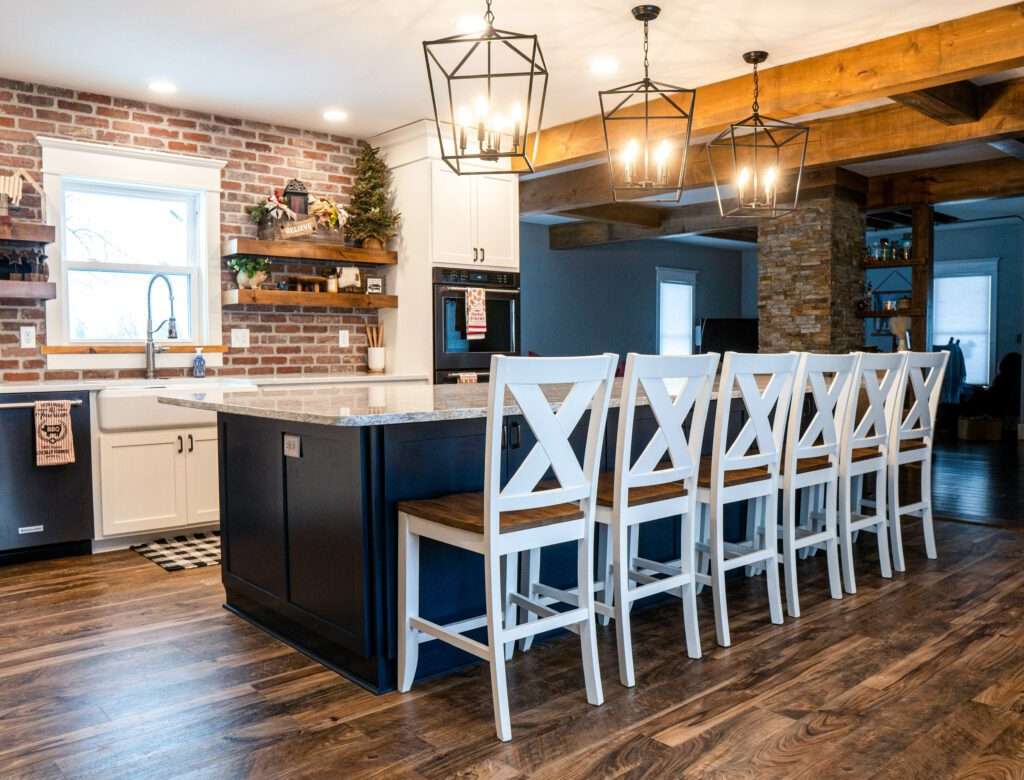 If you like what we did with this recent rustic kitchen remodel, please give us a call to talk with one of our designers about your next home remodel! If this isn't your style, check out one of our other style blogs: Contemporary | Transitional | Modern | Traditional