Whether remodeling a kitchen, bath, office or basement, it's important to be able to understand the different design styles before you meet with our Designer. Do you like clean lines, or chunky natural wood elements? Do you like heavy stacked crown molding, or do you like to mix things up by combining today's trends with traditional elements?
Let's explore some key identifiers in these top design styles to see which one fits you, starting with traditional kitchen styles.
Check out our other styles: Contemporary | Transitional | Modern | Rustic
Traditional
What is a traditional style kitchen design? How do you know what you are looking for when making selections with your designer? Traditional design is infused with timeless design influences from periods such as a 19th century English estate, a French chateau or a Tuscan villa. So what does that look like? Let's paint a picture of how the elements of the kitchen design can come together!
Decorative Elements
With traditional style kitchens, to really bring in the 19th century feel, every detail counts. Generous crown moldings, fluted columns, furniture-style legs, corbels and elaborate cabinet door styles are essential when making selections to fit the traditional design styles. Check out Custom Wood Products to see our exclusive cabinetry line.
Countertops
In a traditional kitchen design, they typically have a more complex edge profile such as an Ogee edge. While granite was the reigning countertop material of choice, quartz has now won over. You can check out our partner, Cambria, for great counter top inspiration!
Backsplashes
Backsplashes can really pull the entire design style together. They can bring together the other colors of the room, while also setting the tone for the design style you are wanting. Traditional kitchen backsplashes consist of ornate tile shapes, such as arabesque, ornate patterns such as herringbone or basketweave, or inlays combining different tile shapes and colors.
Colors
Stains are more common than paints when designing for a traditional style kitchen. Stains will be warm and inviting with rich chocolate or deep red undertones. Paints will be subtle neutral whites.
Classification
Stately, Formal, Classic, Refined, Sophisticated
Do these classifications of a traditional style kitchen match what you are looking for? Check out an example of a recently completed, Rockton Illinois kitchen remodel. The warm colors coordinate so well from the cabinets, to the backsplash, and the unique quartz counter top–see those counter top edges?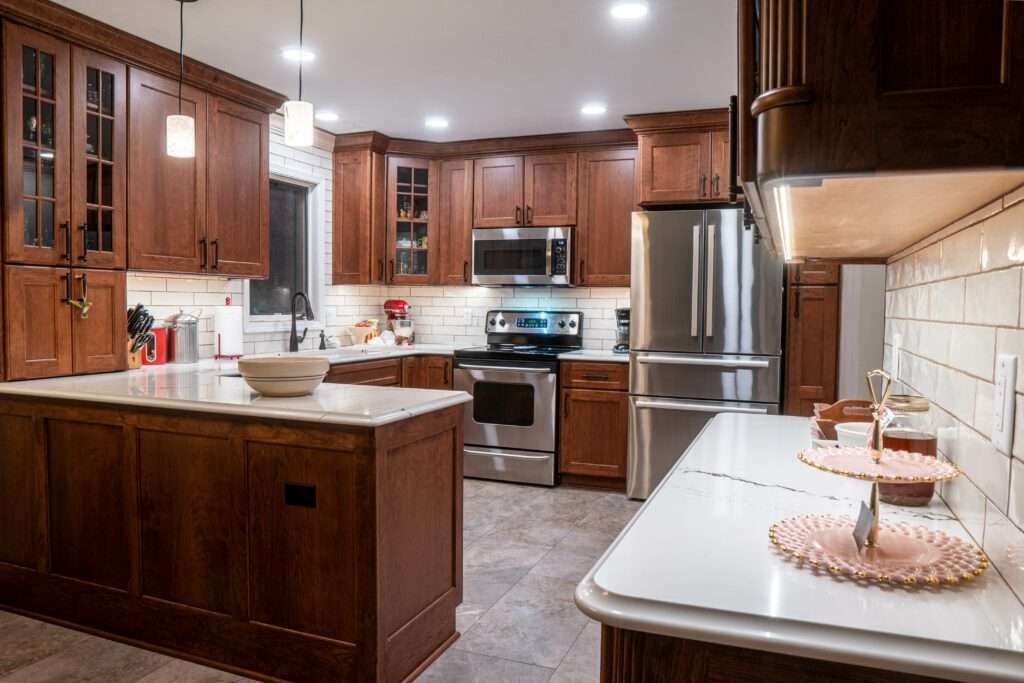 If you like what we did with this recent traditional kitchen remodel, please give us a call to talk with one of our designers about your next home remodel! If this isn't your style, check out one of our other style blogs: Contemporary | Transitional | Modern | Rustic